The Duke of York (1971)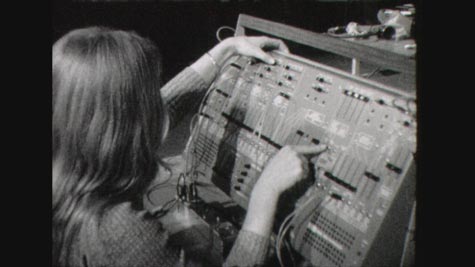 Lucier's first wife, the video artist Mary Lucier, was a big fan of pop tunes. This inspired Lucier to make a piece for singer and synthesizer. The idea was that the singer tries to imitate a series of songs as accurately as possible, and the performer at the synthesizer tries to emphasize the original character of the song by adding effects to the singing voice. The formal idea was that an effect, once set, should not be removed, and so layers of effects would pile up towards the end of the piece, running the synthesizer into a complex situation with sometimes unpredictable - or as Lucier called it – "insane" effects.
For our film, we had asked Lucier for archival footage, and one day he finally gave us Super 8 material from the European tour of the Sonic Arts Union in 1971. The already edited material of about 20 minutes duration was a kind of "road movie" with hardly any rehearsal or concert material. One black-and-white passage, however, showed Mary Lucier at the synthesizer rehearsing THE DUKE OF YORK! With the help of our friend Markus Trunk, we obtained a recording from the BBC taken during that tour. Since Alvin was even singing himself, this was obviously the perfect match for the images.
THE FILM


DESCRIPTION OF PIECES


NEXT


OVERVIEW


DIRECTORS


ALVIN LUCIER


TRAILER


CREDITS


NEWS


CONTACT